Hold The Phone! This Vase Is Also A Charging Stand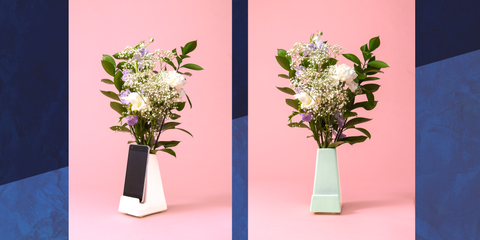 It's pretty standard practice to charge your phone on your nightstand while you sleep, emphasis not necessarily on pretty. What I mean is, if you've always wished for a way to disguise your phone charger so as to not have a random cord resting on your bedside table all the time, you're in luck. You can now charge your phone … with a vase full of fresh flowers. (Whaaat? Yes, really.)
This bedside smartphone vase is basically designed to be the perfect form-meets-function addition to your nightstand. It's sleek, has a space for fresh flowers (or fake ones, if you're not a plant person!), and is built with a dock to hold your smart phone. The vase features cutouts, so you can feed your charger's cord into its base and up through the dock, keeping that cord out of sight. It also comes in two color options: white and mint.
You can check out the smartphone vase below. Also pictured is a phone-valet-meets-planter for succulents, which you can find at UncommonGoods too.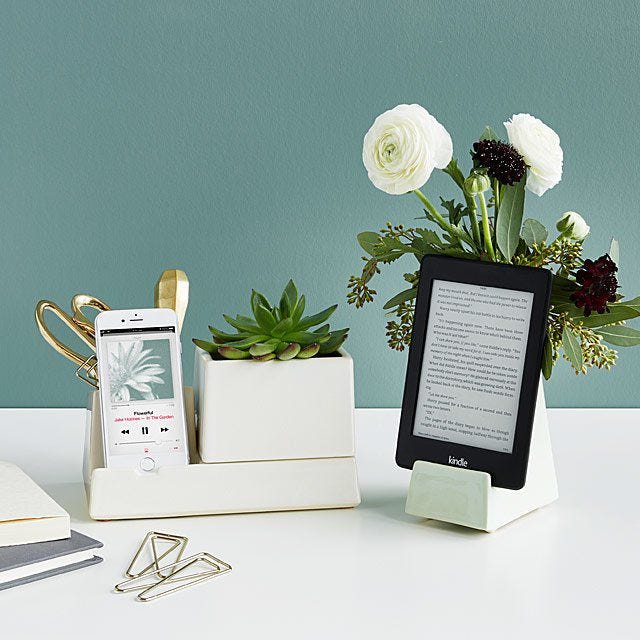 Oh, and here's a rom-com worthy fun fact: Both the vases and the planter valets are made by Heather and Myles Geyman, a couple based in Pennsylvania who — get this — met while they were renting spaces at a local ceramics studio and went on to start a business together and fall in love. Some movie production studio better hop on that story, fast. 
Original post from House Beautiful
Publication date: August-07-2018